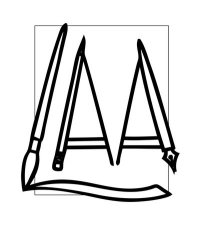 The Logansport Art Association or LAA, located at 424 Front Street on the near west side of Logansport just north of the Market Street bridge was founded on February 11,1911. We are a not-for-profit 501c-3 organization supported by annual memberships, sponsors, contributions, fundraising and grants.
We are open February through mid December.
Operating hours: Tuesday & Wednesday, 1:00 pm to 4:00 pm; & Thursday, 4:00 pm to 7:00 pm
Contact info:  574-735-2915               Email:   loganart1911@gmail.com
***************************************************************
   2015 Shows & Events
*****************************************************
June 18, 2015   Fine Art Show Awards Reception was held from 5:30 pm- 7 pm.
Great turn out for the 2015 Fine Art Show Reception !
Our Award Winners for this year:
Amateur division: 1st : Carrie Ruel-Flores #14 Combat Boots
2nd: Terri Abbott #38 Over the Pond
3rd: Brenda Brink #22 Children at Play
Honorable Mention: T.L. Robinson #30 Roxie in Garden
Professional: 1st: Lisa Rush # 36 Geisha Girls
2nd: Teri Partridge # 17 All in a Row
3rd: Lisa Zeyen #12 Golden- eyed Hen
Honorable Mention: Lisa Zeyen #13 Turtle Huddle
Best of Show: Ann Peperak #8 Rosy Peaches
Judge's Award: Lisa Rush #37 Indian Girl
Mary Regan Award: Terri Abbott # 39 Iridescent Spring
Mary Regan Award: Lisa Zeyen #13 Turtle Huddle
Virginia Murdock Award: Brenda Brink #21 Daisies
Marilou Crisman Award: Lisa Zeyen #11 Finch in the Garden
Psi Iota Xi Award: Teri Partridge #19 Just a Thought
Special Thanks to our Show Sponsors:
Psi Iota Xi
Alpha Mu Chapter of Tri Kappa
Logansport Associates of Tri Kappa
Cass County Tree Service- Keith Jasmantas
Security Federal Savings Bank
Crown Point Community Foundation Inc.
Cass County Community Foundation
Mike Anderson Chrysler Dodge Jeep Ram
The Gray Mill
Graybeal's Carpet Plus
AND Silent Auction Donors:
People's Winery
The Nest
Board members
Show can be viewed through June 30. Come in and vote for your favorite artwork for the People's Choice Award.
Logansport Art Association's
ART CAMP REGISTRATION 2014
Parent name:__________________________________________________________
Name: ______________________________________________________Age: _____
Address: _____________________________________City: _____________________
Phone: ____________________________Alt. Phone: __________________________
Email________________________________________________________________
LAA Art Camp Week: July 14-18
10 am – Noon
Cost: $25 week
Total Fee Submitted: ______
424 Front Street, Logansport, IN 46947
Gallery Hours: 1:00 pm to 4:00 pm Tuesday & Wednesday
4 pm- & 7 pm Thursday
574-735-2915
Email: loganart1911@gmail.com
website: loganart.org